$500 hiring bonus for all full-time positions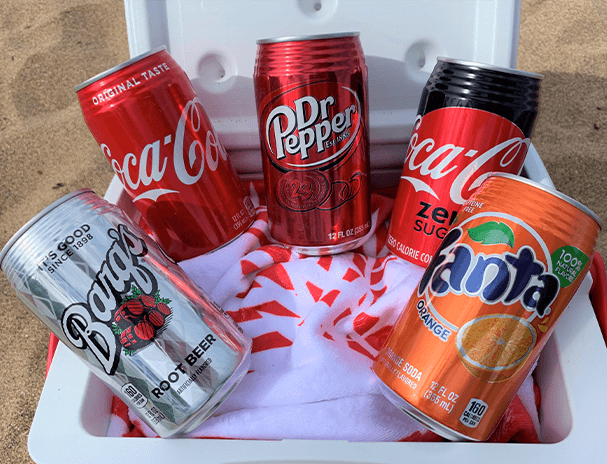 Providing for our people
Medical, Dental, Drug & Vision
Paid Sick Leave
Employee Referral Program
Paid Vacation
Holiday Pay
401k
Bereavement Leave
Jury Duty Leave
Employee Product Discount Program
EEO Statement
Maui Soda & Ice Works, Ltd. provides equal employment opportunities to all employees and applicants for employment and prohibits discrimination and harassment of any type without regard to race, color, religion, age, sex, national origin, disability status, genetics, protected veteran status, sexual orientation, gender identity or expression, or any other characteristic protected by federal, state or local laws. This policy applies to all terms and conditions of employment, including recruiting, hiring, placement, promotion, termination, layoff, recall, transfer, leaves of absence, compensation and training.
These job description is not an exclusive or exhaustive list of all job functions that an employee in this position may be asked to perform from time to time. Duties, responsibilities and activities may change at any time with or without notice.
Employment Opportunities
We support a Drug free Workplace
Title:
Pre-CDL/Frozen Flex
Job Information:
Complete daily orders in an accurate and efficient manner.
Reads and efficiently works from routing manifest to deliver products to customers using truck, forklift, and pallet jack and/or hand truck.
Accurately records invoices, credits, or other instructional information on the truck route manifest, complying with any special instructions for proper and efficient delivery.
Safely and efficiently delivers product to customer per instructions.
Collects money from customers, makes change, and records transactions through eoStar system.
Maintains accurate records of route, follows check-in procedures, verifying accurate payment for invoices and collects any credits from the customer.
Assists customers during delivery as needed.
Follows correct procedures to document customer receipt of product, omission or error; collect payment through eoStar or through cash payment.
Listen to service complaints and direct to appropriate party/parties (warehouse or sales).
Place stock on shelves or racks.
Collects or picks up empty containers, rejects, or unsold merchandise.
Issues or obtains customer signature on receipt for pickup or delivery.
Perform pre-trip/post-trip inspection of assigned vehicle and completes pre-trip/post-trip report; distribute as directed.
Must practice Good Manufacturing Practice (GMP) and Good Sanitation Practices (GSP).
Assist in the ice cream production process including: setup, picking and handling of ingredients and supplies, following formula, and the cleaning and sanitation of the work area for the next day.
Record production and test data for each food product batch, such as the ingredients used, temperature, test results, and time cycle.
Follow recipes to produce food products of specified flavor, texture, clarity, bouquet, or color.
Set up, operate, and tend equipment that cooks, mixes, blends, or processes ingredients in the manufacturing of food products, according to formulas or recipes.
Mix or blend ingredients, according to recipes, using a paddle or an agitator, or by controlling vats that heat and mix ingredients.
Clean and sterilize vats and factory processing areas.
Select and measure or weigh ingredients, using English or metric measures and balance scales.
Turn valve controls to start equipment and to adjust operation to maintain product quality.
Press switches and turn knobs to start, adjust, and regulate equipment, such as beaters, extruders, discharge pipes, and salt pumps.
Observe gauges and thermometers to determine if the mixing chamber temperature is within specified limits, and turn valves to control the temperature.
Observe and listen to equipment to detect possible malfunctions, such as leaks or plugging, and report malfunctions or undesirable tastes to supervisors.
Fill processing or cooking containers, such as rotating cookers, pressure cookers, or vats, with ingredients, by opening valves, by starting pumps or injectors, or by hand.
Modify cooking and forming operations based on the results of sampling processes, adjusting time cycles and ingredients to achieve desired qualities, such as firmness or texture.
Complete video jet setup, video cleaning, video maintenance, and video re-filling for production.
Examine, feel, and taste product samples during production to evaluate quality, color, texture, flavor, and bouquet, and document the results.
Inspect and pack the final product.
Manipulate products, by hand or using machines, to separate, spread, knead, spin, cast, cut, pull, or roll products.
Give directions to other workers who are assisting in the batch making process.
Operate refining machines to reduce the particle size of cooked batches.
Place products on carts or conveyors to transfer them to the next stage of processing.
Homogenize or pasteurize material to prevent separation or to obtain prescribed butterfat content, using a homogenizing device.
Follow procedures, process, testing, safety, and have chemical knowledge for the CIP and COP process of production.
Maintain and organize inventory of ice cream and frozen foods in subzero freezer temperatures for delivery and/or will-calls to customers serviced by the Company.
Maintains mix ingredient inventories by rotating properly.
Must keep storage areas neat and clean of any rubbish or foreign objects.
Operate continuous freezers on production floor.
Follow machinery maintenance program.
Assists with Food Safety assessments and validations of the product process, manufacturing process, Hazard Analysis Critical Control Point (HACCP), Hazard Analysis and Risk-based Preventive Controls (HARPC) food safety plans, and food quality plans.
Maintaining confidential information about the production of ice cream.
Regular attendance is essential to the successful performance of this position.
Must have a positive work attitude and work will with management/ associates.
Hourly range: $19 – $26.
Physical Demands
Must be able to lift up to 50-70 lbs. continuously.
Must be able to operate pallet jack and hand cart to transport products all in a safe manner.
Requires writing, standing, sitting, walking, repetitive motions, pulling, pushing, grasping, listening and hearing ability
The worker will be required to have visual acuity to operate 10,001 + GVWR or less and/ or heavy equipment.
This position is subject to both environmental conditional occurring inside and outside.
This position is subject to hazards such as moving vehicles/equipment.
Talking and hearing occurs continuously to communicate with peers, customers, and management.
Ability to receive detailed information through words and vision.
Qualification Standards
Required
21 years of age per DOT requirements.
Required Education:
High School Diploma or GED.
Preferred Experience
6+ months of delivery experience.
Licenses or Certificates Required:
Traffic Abstract with safe driving record and valid Hawai'i Driver's License.
Must be able to acquire CMV Medical Examiner's Certificate and Airport Operation Access badge.
Preferred:
Forklift Certification Electric, Manuel Pallet Jack Certification, and Food Handler Certification
Title:
Part-Time & Full-Time Warehouse
Job Information:
Required to properly rotate product by date in the warehouse.
Assists with loading beverage product onto pallets per pick ticket, truck, and route.
Must be able to efficiently take pick ticket and determine the beverage products, CO2 tanks, and syrups to be palletized and distributed, and verify order before loading pallets onto the delivery trucks.
Store beverages on racks or floor by style, size, brand, or type of material.
Must be able to maintain case picks per hour with accuracy to meet warehouse goals.
Must receive training and certification for forklifts and pallet jacks.
Must maintain a clean warehouse by sweeping, discarding trash, and empty boxes throughout one's shift.
Must be able to fill order from warehouse with care, concern, and diligence.
Must maintain baler machine, machine waste, trash receptacles.
Must maintain the usage and storage of crates as well as designated crate area.
Maintaining grounds around property.
Assist with maintaining equipment (forklift, pallet jacks, and hand trucks) and documenting issues with equipment to Vehicare.
Regular attendance is essential to the successful performance of this position.
Must have a positive work attitude and work will with management/ associates.
Hourly range: $16-21
Qualification Standards:
Job Requirements:
Must be 18 years or older.
Required Education:
Preferred Education:
High school diploma or GED
Required Experience:
Title:
Junior Sales- Non-Exempt
Job Information:
Will follow merchandising schedule to visit all major markets for the day and week.
Maintains and tracks all beverage products to ensure the products are fresh, clean, and sales worthy.
Must ensure the proper rotation of all products. Will communicate date-stressed products to Account Managers and Sales Managers.
Assist with building displays at key accounts in a safe manner, and working with Account Managers to ensure the displays are attractive and to schematic standards.
Work closely with Field Market Manager and Category-Merchandising Manager to implement and complete store resets on a quarterly/ semi-annual basis.
Ensuring that all new products are properly matching schematics, the stores request order, and that all tags are properly assigned in the store.
Assists in creating and maintaining a clean and orderly beverage aisle, shelves, cold space, FLM's, displays, rack and point of sale both permanently and temporary.
Will report any unusual product damage or deviation to Account Managers, Sales Managers, and or Category Merchandising Manager.
Assists all point of sale merchandising so that any trademark piece is clean, in attractive condition, and positioned in the account in a timely/ current manner.
Occasionally responsible to order beverage products on an established route through route accounting system.
Operating a Company vehicle for the purpose to complete job duties/tasks.
Regular attendance is essential to the successful performance of this position.
Hourly range: $18 – $23.
Related keywords: merchandiser, retail
Required
Required Education
High School Diploma or GED
Required Experience
Preferred retail experience
Licenses or Certificates Required
Safe driving record
Valid Hawai'i Driver's License
Preferred Electric and/Manuel Pallet Jack Certification
Title:
Part-Time/Full-Time Merchandiser
Job Information:
Will follow merchandising schedule to visit all major markets for the day and week.
Maintains and tracks all beverage products to ensure the products are fresh, clean, and sales worthy.
Must ensure the proper rotation of all products. Will communicate date-stressed products to Account Managers and Category- Merchandising Manager.
Assist with building displays at key accounts in a safe manner, and working with Account Managers to ensure the displays are attractive and to schematic standards.
Assists in creating and maintaining a clean and orderly beverage aisle, shelves, cold space, FLM's, displays, rack and point of sale both permanently and temporary.
Will report any unusual product damage or deviation to Account Managers, Sales Managers, and or Category Merchandising Manager.
Assists all point of sale merchandising so that any trademark piece is clean, in attractive condition, and positioned in the account in a timely/ current manner.
Operating a Company vehicle for the purpose to complete job duties/tasks.
Regular attendance is essential to the successful performance of this position.
Hourly range: $17-22
Requirements
Required Education
High School Diploma or GED
Required Experience
Preferred retail experience
Required Licenses or Certificates
Clean driving record
Valid Driver's License
Preferred Electric and/Manuel Pallet Jack Certification