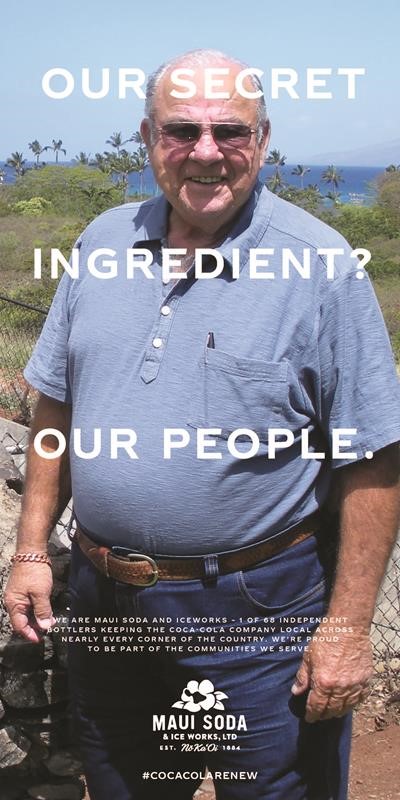 A full page Character Story ad ran in the Sunday July 15th and Sunday August 12th editions of The Maui News. The ad paid tribute to the late Buddy Nobriga, patriarch of the Nobriga family. For more  than half a century the Nobrigas have owned and operated Maui Soda & Ice Works, Ltd., the Coca-Cola® bottler/distributor that has served the Maui and Lanai communities in Hawaii since 1924. The family is also the manufacturer of Roselani Ice Cream. Maui Soda & Ice  Works, Ltd. has been in business on Maui for 134 years.
The Rest of Our Character Story
A well-known and well-respected member of our community, our father David "Buddy" Nobriga was integrally connected with soil and water conservation here on Maui. He was as dedicated to this cause locally as Coca-Cola® is globally.
For 50 of his 54 years of service, he served as the chairman of the West Maui Soil & Conservation District. He and his colleagues are responsible for creating the Honolua watershed which protects the Nāpili area from flooding, for cleaning up the ocean in the Kahana area, and for work on the Lahaina watershed project throughout the last two+ decades. In 2009, Buddy was one of four people in the Pacific Islands recognized as environmental heroes by the U.S. Environmental Protection Agency. EPA officials said his years of commitment to the environment provided the needed leadership to advance a system designed to prevent the pollution of West Maui coastal waters. He also organized Maui's Resource Conservation & Development, the first in the state, in 1970, serving as its chairman for ten years. Throughout his life, he mentored so many in conservation practices. Today, our brother Jay carries on his legacy.