29 local entrepreneurs, companies and champions are honored
Each year, the Hawaii region of the federal Small Business Administration gives out awards that celebrate some of the state's best small businesses and small-business advocates. Hawaii Business is proud to profile the 2014 winners.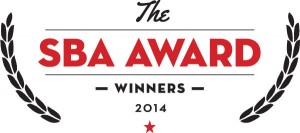 To nominate a company or champion for next year's awards, check the October 2014 issue of Hawaii Business for information on the nominating process or talk to your banker.
To learn about SBA loans for small businesses, go to www.sba.gov or ask your banker.

Sponsor: Curtis Tom, Bank of Hawaii
By Lehia Apana
For Michael Nobriga, every day is like a family reunion.
The Maui Soda & Ice Works president shares an office with his father, David "Buddy" Nobriga, and sister Cathy Nobriga Kim. Spread across the company's Wailuku headquarters are Michael's three brothers, along with a cousin and nephew.
Family-Owned Business of the Year
"If we need anything, we just shout across the hall," Michael jokes.
He explains that the company's definition of family extends beyond blood relations.
"We try to foster that feeling of ohana, from the executives down to the last person we hired in the warehouse," says Michael, adding that, "Everybody who works for us is part of the Nobriga family."
The Nobriga legacy began when longtime Maui Soda & Ice Works manager Manuel Nobriga took over the business in the 1940s. Back then, the company was best known as the local bottler and distributor of Coca-Cola, having held the franchise since 1924. When Manuel retired in 1971, his son Buddy became president. Leadership was passed down once again in 1998, when Buddy retired and his eldest son, Michael, stepped in. Today, there are four generations of Nobrigas working at the company.
Maui Soda & Ice Works now includes the Roselani Tropics ice cream division, and distributes more than 200 beverage products and about 300 freezer products across the island.
"I'm pretty confident (Manuel Nobriga) would be amazed at what's going on here. I don't think he'd believe we're still in the business," Michael says.
Pukalani Superette operations manager Jerry Masaki, who has done business with Maui Soda & Ice Works for 15 years, credits the company's longevity to the Nobriga family's values.
"Their upbringing, and willingness to communicate and compromise is something that all businesses need," Masaki says. "They're a close-knit company, and they've figured out a way for all family members to contribute to the success of the entire group."
Michael points out that a sense of ownership extends throughout the company.
"I make a promise to my employees that I'll share all the profits that we make. It's a shared success. If we succeed, they're going to reap the benefits."